Name Book: Le Livre des Patiences
Author: Madame de F***
Year: 1842
Location: Paris, France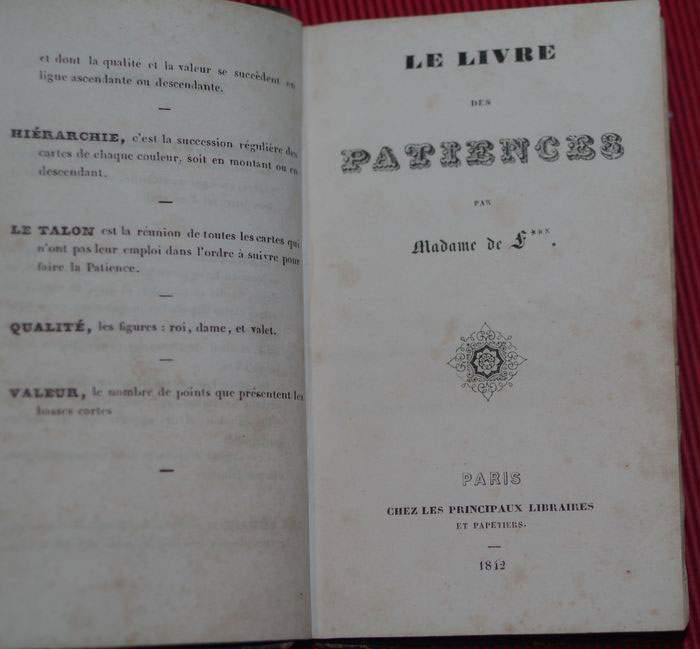 Le Livre des Patiences by Madame de F* (Marquise de Fortia), Paris, France 1842
The first edition of Le Livre des Patiences was published by Marquise de Fortia under the pseudonym Madame de F*. This book is one of the most important books regarding Patience / Solitaire. The book is so important that until today new editions are published.
"Le Livre des Patiences" has been taken as an example for many patience and solitaire books later translated into English and contributed to the worldwide popularity of this card game genre.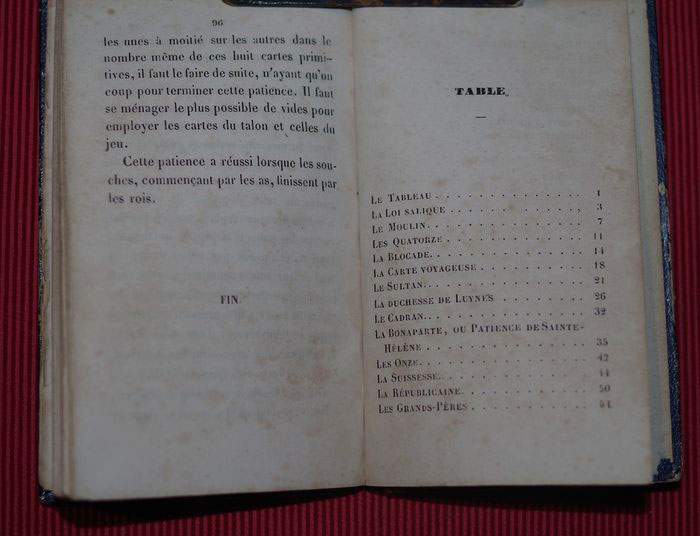 The original first edition consisted of a brief explanation of the glossary followed by 25 game descriptions of the following "Patiences":
Le Tableau
La Loi Salique
Le Moulin
Les Quatorze
La Blocade
La Carte Voyageuse
Le Sultan
La Duchesse de Luynes
Le Cadran
La Bonaparte ou Patience de Sainte Helene
Les Onze
La Suissesse
La Republicaine
Les Grands-Peres
La Patience Patience
La Legitime
La Bella Lucie
Le Crapaud
La Poussette
La Quinzaine
Les PetitsPaquets
La Brune et la Blonde
Le Carre
L'Appel
Le Congres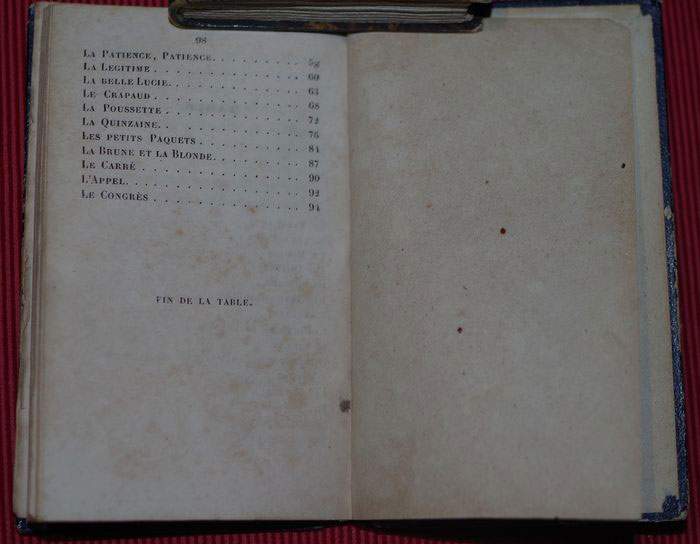 As said in many later English books, these games of patience are adopted, edited, renamed, revised, and reinvented.
Solitaire Fact!
In the Glossary of this book, the Waste Pile is referred to as the Talon. In many, later books author's confused this and named the Stockpile the Talon, but since Le Livre des Patiences is the oldest and most authoritative, the Talon should only be used when referring to the Waste pile.
The book has not only been the basis of the popularity of patience (solitaire) but also provides insight into which solitaire games are among the oldest in the world. Both Klondike nor Canfield, which would later become the most played Solitaire variants, are mentioned in this book.
You can read the 1861 version of "Le Livre des Patiences" on Google Books. It's the oldest version available on the internet.