Name Book: The Magnificent Rube: The Life and Gaudy Times of Tex Rickard
Author: Charles Samuels
Year: 1957
Publisher: McGraw Hill Book Company
Location: New York, Toronto, London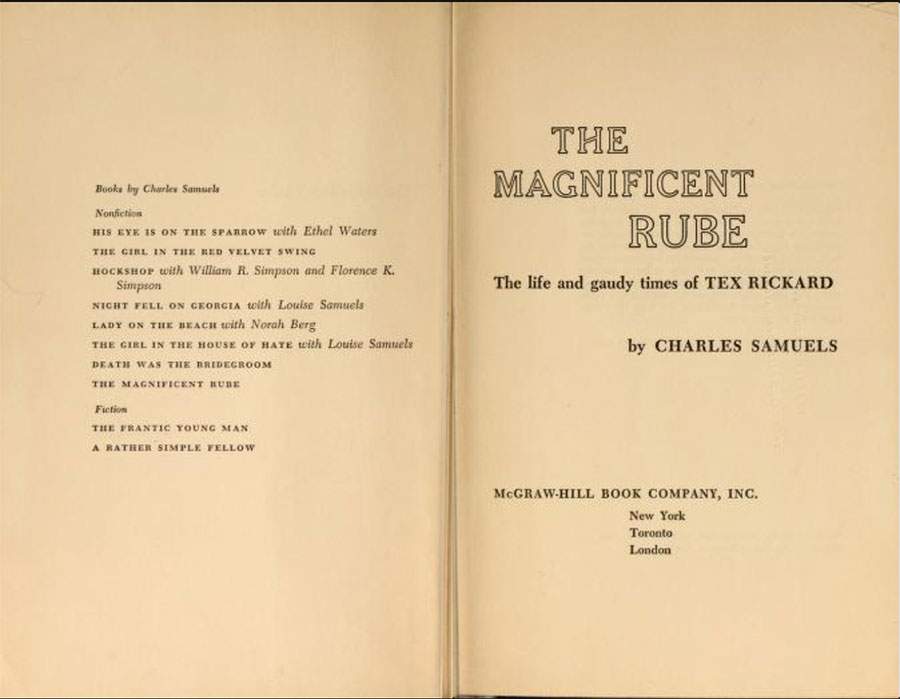 The Magnificent Rube: The life and gaudy Times of Tex Rickard
An Autobiography of the Famous Gambler and Boxing Promoter Tex Rickard (1870 – 1929)
Tex was, like Richard Canfield, a professional gambler who ran his first gambling house in Dawson City. He lost all his money but used his experiences in Dawson to his advantage in later life when he became a very successful gambler and boxing promoter. Among other things, he was the founder of the New York Rangers of the National Hockey League. Rickard operated several gambling houses and casinos in Alaska, and later Nevada.
The discovery of gold on Cape Nome, Alaska, during the summer of 1898, started the so-called, latecomers gold rush. It was a rare opportunity for amateurs as well as those who'd failed to strike gold previously. Tex Rickard, who lost everything in a Dawson Faro game, was one of the first who arrived in Nome. He opened a new gambling house called the Northern. In the book, "Solitaire" is listed as one of the games played.
"Six bartenders worked there day and night, the favorite drink being the boilermaker—whisky with a beer chaser. The place was jammed at all hours by miners, officials, bankers, gamblers, and girls from the nearby dance halls. The games included roulette, blackjack, twenty-one, bridge, solitaire, and poker."
Interesting is the fact that Tex Richard moved to Las Vegas where he ran another couple of casino businesses. He was most likely not the only one to hit 'Sin City' from points north, south, east, and west. It is very likely gamblers, like Tex Richard, introduced Solitaire in Vegas.