Richard A. Canfield (1855 -1914) was an American gambling magnate, art collector, and stockbroker who ran a gambling empire in New York in the late 1800s and early 1900s. He became America's most famous gambler, for many reasons, not the least of which was his casino resort in Saratoga Springs, New York. Determined to mimic the luxury of Monte Carlo gambling houses, he created the most luxurious and prestigious club in the entire country. Canfield was highly-respected for his fair play, good treatment of his guests, and the fact that you could always play the highest stakes at Canfield.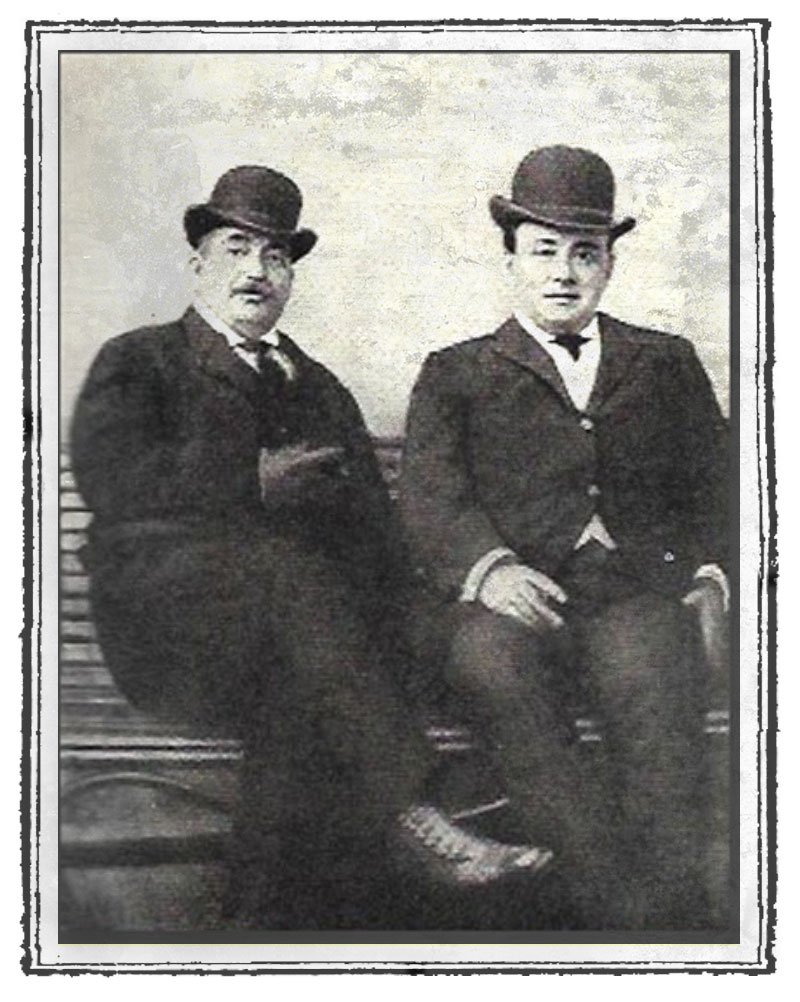 Timeline of Richard Albert Canfield's (Business) Life
Richard Canfield's business life is a fascinating story packed with highlights. The timeline below is not only important to get an overview of all the events in Canfield's life, but also addresses the question of when, where, and which Solitaire Canfield might have offered.
1855 – Richard Albert Canfield was born on June 17, 1855, in New Bedford, Massachusetts, the fifth of six children.
1873 – Canfield opens his first illegal poker room with his childhood friend Buckley, but after a warning from the police, the club is closed within a year. For the next 7 years, he did not hold a steady job but was never short of money: these were the years he acquired the skills of a gambler.
1876 – Canfield won a large sum ($20,000) playing Faro, after which he decided to spend the summer in Monte Carlo (Europe) to try his luck at gambling.
1877 – Canfield returns from Monte Carlo, completely broke but one experience richer. After seeing all the luxury and prestige of casinos there, Canfield was determined to make a career as a high-class casino operator, or "gambler" as the gambling house owners were called back then.
1883 – Canfield moves to Providence and becomes a partner in a busy Faro home run by Thomas Sprague.
1884 – Police raid Canfield and Sprague's Faro Club.
1885 – Expecting an acquittal, Canfield is sentenced to 6 months in prison; time is served during this year.
1886 – Canfield is released and starts a new job as a dealer in a gambling house in New York.
1887 – Canfield opens a poker club together with William Glover, but because Canfield finds the profits too low, he sells his share.
1888 – Canfield opens a new club, the Madison Square Club, with partner David Duff.
1892 – In the years that followed, Richard Canfield earned a reputation as one of New York's most respected gamblers. It was during this time that Canfield visited Saratoga Springs during the resort town's busy summer months. Thanks to the efforts of John Morrissey, (1831 – 1878), the hot springs town had already become a gambling mecca. Morrissey's partner, Spencer, kept the prestigious Saratoga Clubhouse operational, but the quality of the establishment quickly deteriorated. This was also Canfield's impression, who, during his many visits, became friends with Spencer. The two had much in common, including a passion for collecting art and for gambling.
1893 – Canfield agrees with Spencer to buy the renowned club. Canfield assumes the role of partner and begins the 'settling in' process. As the manager, Spencer slowly began preparing high rollers to get used to the idea that a new owner would soon take over.
1894 – Canfield finalizes his purchase, paying a total of $250,000 for full ownership of the prestigious clubhouse.
1897 – Canfield Club opens in Newport, Rhode Island.
1900 – Thinking he was untouchable, presumably intoxicated, Canfield was reputed to have said hurtful remarks about a detective named William Travers Jerome. Due in part to this incident, he became the detective's personal target. Many small and mostly corrupt clubhouses were already closed in New York City. Jerome's main focus shifted to closing Canfield's Club at 5 East 44 Street in New York.
1901 – On December 1, 1901, after a smear campaign and increased pressure from the legal system, Canfield shut down his club at 5 East 44 Street, New York. He kept the property for personal use, maintaining residence on the top floor, however, games of chance were never offered again.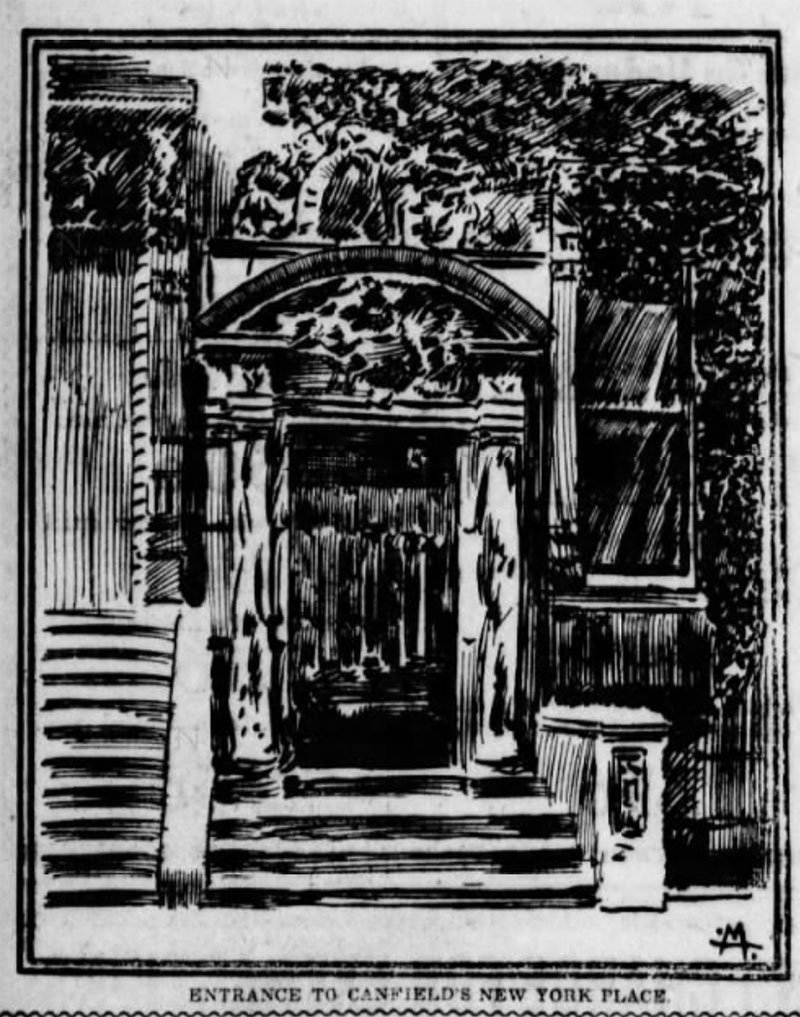 1902 – While Canfield is staying in Europe with his good friend and artist James Whistler, his already closed establishment on East 44 street is raided. Canfield is furious because he considers it his home, but after the police find a hidden room with gambling equipment, there is a lawsuit. In this, Canfield is eventually ordered to pay a fine and legal costs.
1903 – Strict compliance with the law and growing opposition to gambling houses like Canfield's were also tightening rules in Saratoga. That year gambling was only allowed to take place in secret, behind closed doors. As a result, Canfield was only able to invite a small part of his clientele into the gambling area of his Saratoga Springs casino. The new restrictions infuriated the man who, in protest, decided not to open the following season.
1904 – Canfield kept his doors closed to the public. The fact that many tourists came to Saratoga Springs specifically to see Canfield's Casino, now shuttered, had a massive impact on the town's other businesses, and on tourism in general. Horse race track officials begged Canfield to reopen, but he only wanted to open with the previous conditions that would allow him to operate openly as before.
1904 – Canfield sells Canfield Club in Newport, R.I.
1905 / 1907 – Canfield's Casino, and a few other gambling houses in Saratoga Springs received a modified permit to open under strict conditions; namely, gambling behind closed doors. Canfield kept the restaurant open and sporadically offered games of chance.
1907 – For Canfield, the fun is gone. He surprised friend and foe alike when he announced not only the closing but also the sale of his famed establishment. Although many thought Canfield would reopen the next year, the club remained closed for good. This was truly the end of an era.
1911 – The Saratoga Springs City Council bought the clubhouse in 1911 for $150,000, a price well below market value, and even less than what Canfield had paid a few years back. The former casino became part of a public park, and Canfield departed, never to return to Saratoga.
1914 – On December 10, 1914, the legend slipped on subway stairs, striking his head. It did not appear to be serious, and in lieu of a hospital check-up, Canfield insisted upon resting at home. The next day, on December 11, 1914, the infamous gambler passed away. The seemingly minor fall fractured his skull and caused a traumatic, deadly brain injury.

From 1888, when he opened his first club ever, to the closing of his clubhouse in Saratoga, Canfield is said to have earned well over $5 million from his gambling enterprises. Earning money on Wall Street and art trade, he is purported to have retired with $12 million dollars.
Casinos and Gambling Clubs run by Canfield
Throughout his career, Canfield ran several illegal gambling houses, in multiple states; with Saratoga Springs being the most famous one of all. Below, is an overview of all casinos operated by Canfield, both in partnership with others and as a solo venture.
Canfield / Glover Poker Club
Name Club: Canfield / Glover Poker Club
Address: Broadway East, 18th / 19th street, New York
When: 1887 – 1888 ( 1 year)
The opening hours were from noon to midnight. The limits played were a mere 25 – 50 cents. Netting only a few hundred dollars in sales, a dismayed Canfield sold his share to Glover.
Madison Square Club
Name Club: Madison Square Club
Address: 23 West 26th Street, New York
When: 1888 – 1899 (11 years)
This was the first club to open in partnership. However, just two years later Canfield bought out his business partner, David Duff. It seems Duff was an excessive drinker and a 'danger' to the business. The games offered were Faro, roulette, and poker. It was one of Canfield's most profitable clubs.
According to a 1934 article in The Brooklyn Daily Eagle, You Can't Win, this West 26th Street location was where Canfield allegedly played (offered) Klondike Solitaire. The article mentions a letter written by Canfield to RF Foster, a well-known card game authority, in response to questions about Solitaire.
Saratoga Club (Next to Del's)
Name Club: Saratoga Club (Nickname: Next to Del's)
Address: 5 East 44 Street, New York
When: 1897 – 1901 (4 years)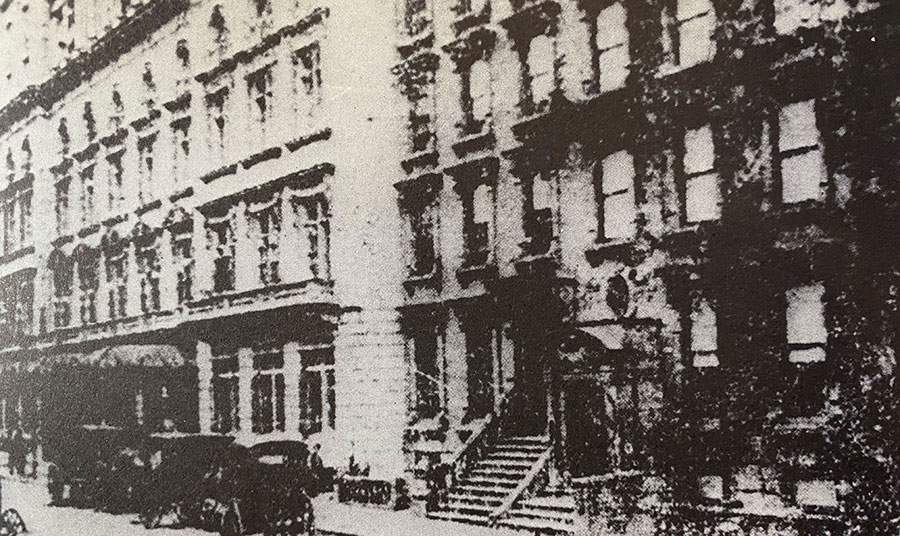 This club was one of the most luxurious and respected gambling houses in New York.
The official name was "Saratoga Club," but since it was located next to the luxurious restaurant, "Delmonico's," it quickly became known as "Next to Del's." The public knew it as an art gallery and private club that was almost impossible to join. An illegal but respected club, membership was limited to those in the "extremely wealthy" class of people. Games on offer were roulette and Faro which, especially for that time, could be played for high stakes in a special private room.
On December 31, 1901, due to the increasing threat of a police raid, Canfield decided to halt games of chance. This temporary break would later turn out to be definitive and after 1901, "Next to Del's" never reopened. Canfield continued to maintain his residence there on the first floor.
Canfield House Newport
Name Club: Canfield House Newport
Address: Rhode Island – 5 Memorial Blvd West
When: 1897 – 1904 (7 years)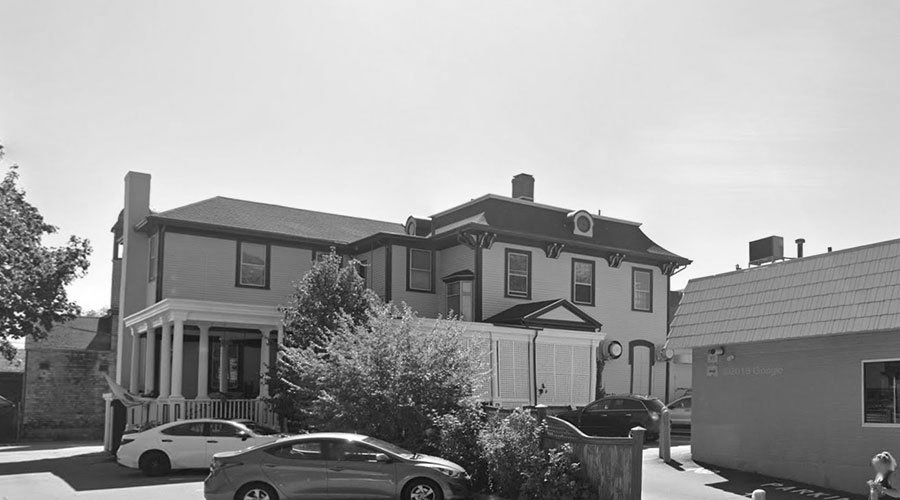 One of Canfield's smaller clubs, the Newport, R.I., the location offered poker as its main game; it was not known for being lucrative. Following the 44the Street (Saratoga Club) raid and continued pressure, Canfield is said to have sold the club.
Canfield's Clubhouse Saratoga
Name Club: Canfield's Clubhouse
Address: Saratoga Springs, 1 E Congress Street
When: 1894 – 1907 (13 years)
Saratoga Springs, a small town 165 miles north of New York City, was best-known as a summer resort town with healing waters in its lakes. Frequented by the idle rich looking to escape the heat of the city, this quiet little town grew to become known as the Monte Carlo of the East.
In the last quarter of the 19th century, long before Las Vegas existed, Saratoga Springs was America's gambling capital. Attributed to a political climate where the locals preferred to see tourists rather than enforce gambling laws, the town became a tourist hotspot for gamblers and horse racing aficionados.
At that time, New York City was the gambling epicenter of the United States, with Saratoga taking the crown, offering a world-class horse racing track and 10 active luxury clubs. It was estimated that in Saratoga Springs' heyday, a combined $2 million was gambled weekly on the racecourse and casino games.
Canfield's Casino and The Saratoga Club House
It was during this heyday that Richard Canfield made significant changes to Morrissey's original gambling house, beginning with the name. The Club House became The Casino, America's most prestigious and luxurious gambling palace.
John Morrisey's Era
Built-in 1869 by ex-Congressman, gambler, and prizefighter (boxer) John Morrissey, The Saratoga Club House was the finest gambling house the town had ever seen.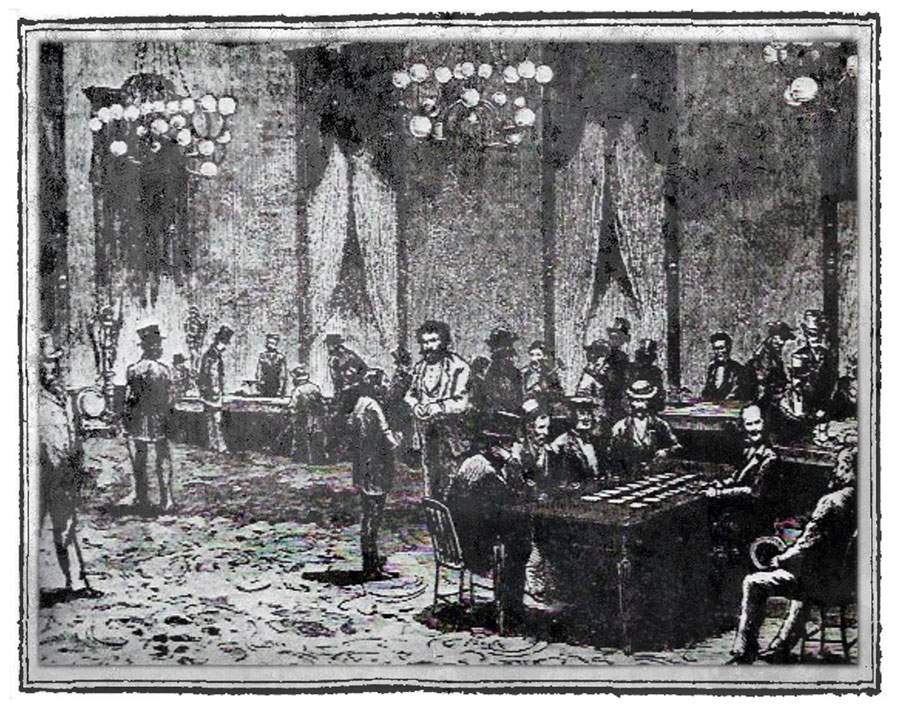 Shrewdly listing himself as a partner, not the owner, Morrissey first built the thoroughbred horse race track to raise money for his own Monte Carlo version of a gambling house. Morrissey built the property for $190,000 with the aim of starting a luxury casino in it. However, because gambling was banned at the time, he named it the Saratoga Club and presented it as a private men's club.
John Morrissey, and business partner Albert Spencer, held fast to a few important rules of play: no gambling on Sundays; local residents were barred from entry, and women were welcome in the restaurant but not in the gambling area of ​​the club.
After Morrissey's passing in 1878, Albert Spencer continued the business alone.
Richard Canfield's Era
When Canfield completely took over the club in 1894, the business was completely upgraded. For example, spending $800,000 to create lush Italian gardens further enhanced the town's reputation for luxurious settings.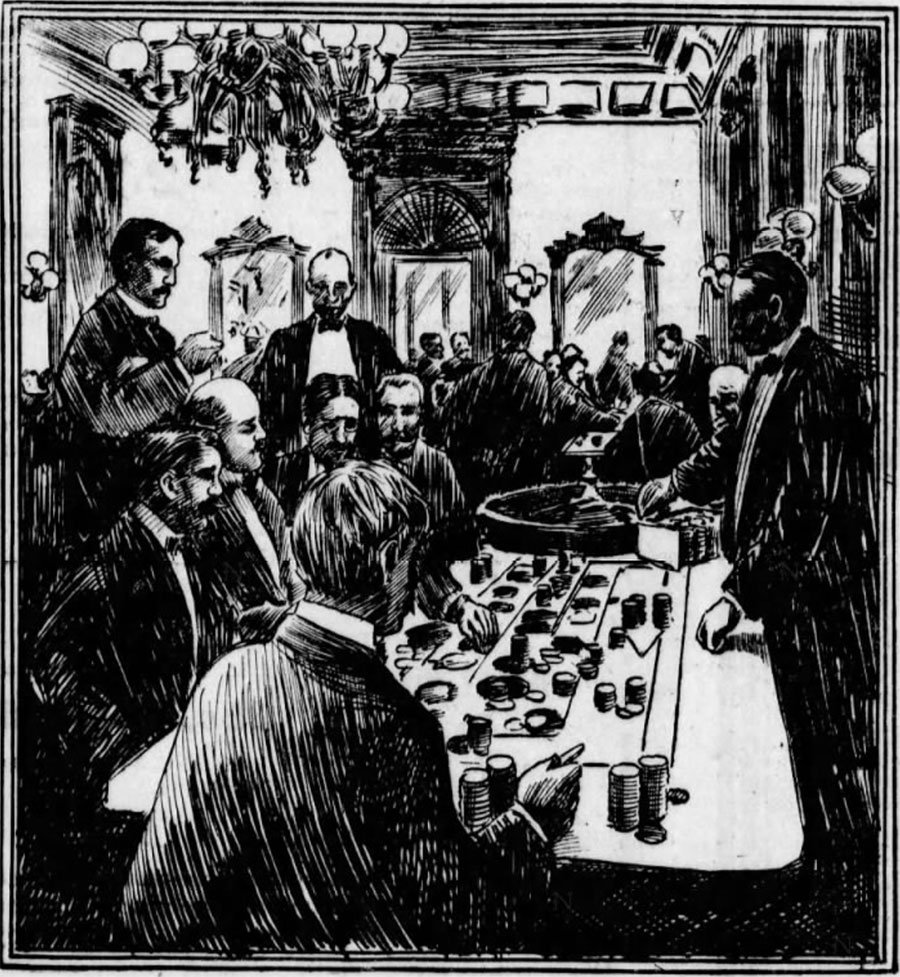 The ballroom was completely renovated and converted into a super-deluxe restaurant. A wine cellar with over $40,000 worth of rare wines, 50 new top waiters were hired, and tables were set with linen and the finest silver services. Thousand-dollar per plate meals featured the finest ingredients made by the best chefs money could buy. The prices were not inferior to those of the most upscale restaurants in New York City, and high society elites were eager to dine – or simply be seen, in the fine establishment.
Canfield knew how to treat guests well, but there was more to the high prices than meets the eye: he knew only those with vast wealth could reserve a place at the table…and not just the dinner table.
The club's clientele consisted mainly of millionaires who were expected to hit the gaming tables for large amounts of money, too. From the start, Canfield was known for accepting high stakes; later, these stakes would grow to be the highest in the world, exceeding even Monte Carlo limits.
The gambling room consisted of two Faro boxes and nine roulette tables. In addition, there was a private room where the high stakes were played. There were two Faro tables and two Roulette tables.
After his first season in charge, The Casino was such a success that he paid Spencer, in full, the balance of $250,000 for complete ownership rights to the club and the track.
The clubhouse opened every summer from the beginning of July to the end of August. Canfield himself was rarely found in the playing area. He spent most of his time dining with important guests. When dinner was over and the guests were going to try their luck on the gaming tables, Canfield would often go to his office, then retire for the evening around midnight.
Canfield – The Prince of Gamblers
Richard Albert Canfield seemed to have had perfect timing when it came to being a gambler. Although restrictions were often enforced against all manner of gambling houses, New York City prevailed as the hotbed of American gambling culture. Estimates cite more than 60 large luxury gambling clubhouses and private clubs in the city. It was here the "Prince of Gamblers" got his start creating a worldwide reputation, quickly rising to fame and becoming the pinnacle of gambling-related success stories.
At the time, his name was synonymous with gambling, much like Monte Carlo in Monaco, or Las Vegas, now. Despite great fame during his lifetime as a gambler, the name Canfield today is mostly known as the name of a Solitaire game said to be invented by him. Other sources contradict this, saying he would never have even played it. I reviewed every possibility in an effort to figure out why, and how, Canfield Solitaire got its name.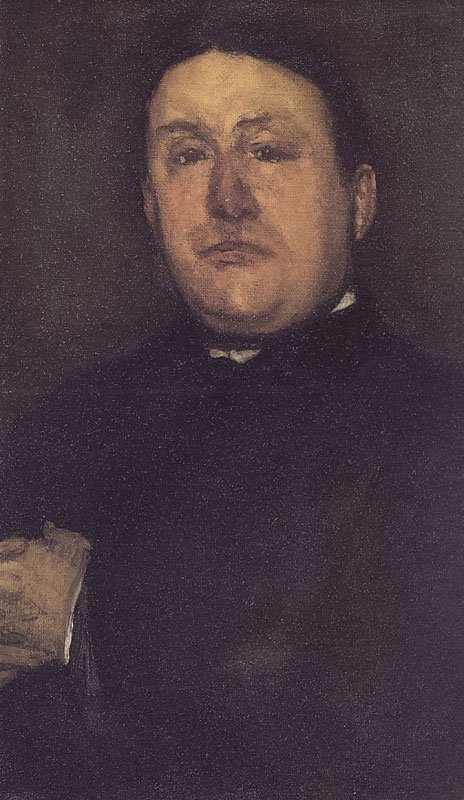 In 1914, the legendary man passed away, leaving a legacy, and a name, that will never die.
Resources
More books and articles on gambling with Solitaire can be found in our Solitaire Bibliography