What is Vegas Solitaire Mode? This refers to the Vegas Style mode of the Microsoft Windows Solitaire game. Microsoft has installed this game by default on every computer running Windows since Windows 3.0, which undoubtedly contributed to the fame of Las Vegas Solitaire and boosted the popularity of Solitaire in general.

Vegas Solitaire mode is another word for the Vegas scoring feature of Microsoft Windows Solitaire. It is only available on the Klondike game. Vegas mode adds a fictitious betting system where you 'buy' a deck of cards for the value of 52 points, and then it adds the value of 5 points to your score for every card you play to the Foundation.
Origins of Vegas Mode Solitaire
The game is much older than many people think. It existed long before Las Vegas was even founded; and was originally a gambling game, Klondike Solitaire, that originated in Dawson City, Canada. Then it became a hype in gambling houses with which it gained great fame in the early 20th century. Also, "Klondike" is a slot game based on the Triangle Solitaire game. The game required too much staffing in the gambling houses. As a result, it was not offered long; it simply was not profitable enough.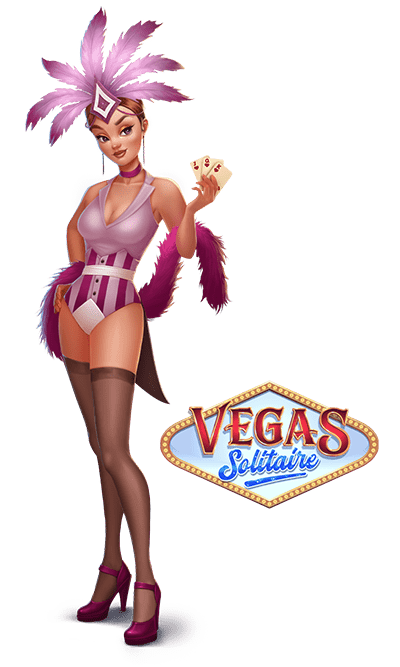 However, the popularity of the game grew in the private sector. In fact, it became the most dominant Solitaire played. People started keeping scores with imaginary money to see if they could have won at a gambling house. Over time, the Klondike gambling score (currently known as the Vegas Score) went by the wayside. Then, in 1990, the old Klondike score was renamed Vegas mode with the advent of Microsoft Windows Solitaire.
Rules and How to Play
If you are not familiar with the rules, we recommend that you first read the rules of Vegas Solitaire itself. Vegas Solitaire mode is played precisely the same way as Vegas Solitaire; however, you get to play for points, whereas with Vegas Solitaire, you are playing for real money in an online casino.
With Vegas Solitaire Mode, you'll pay a fixed amount for a deck, or stock, of cards, and for every card you play to the Foundation, you get back five times the bet (per card). If you complete the game, you will receive five times your stake. For all Vegas Mode betting options and payouts, visit our page about the Vegas Solitaire pay-table.
Playing Vegas Mode Solitaire
Do you want to play Vegas mode Solitaire in a super-deluxe version? Then you've come to the right place. We have developed a new Solitaire game, according to the original rules, in Vegas style. This way, you can experience the Solitaire Vegas mode in a way that you have never done before. Practice and play the demo game unlimited, for free, on this website. You can go to many online casinos if you want to play for real money. We have compiled a list of online casinos where you can play Vegas Solitaire mode for real money, including a Solitaire bonus!
FAQ