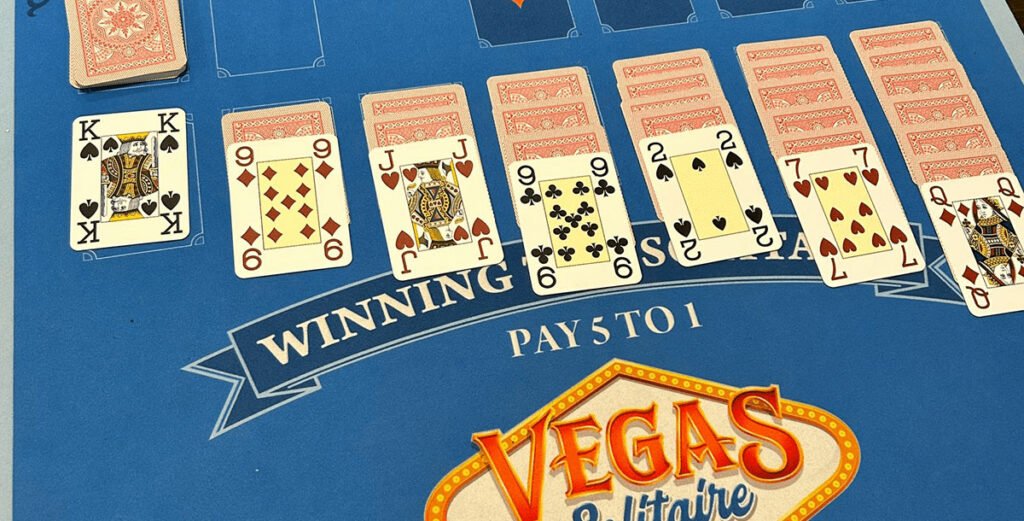 Discover the captivating world of Vegas Solitaire like never before! Not only have we brought this thrilling game to the online realm for real money, but we're also working on a version that you can enjoy with your friends right in the comfort of your own home.
We've designed an awesome play mat that adds an extra touch of coolness to your Solitaire sessions. And that's not all—we're excited to announce the official Vegas Solitaire playing card set, carefully created to replicate the original game played in the famous Las Vegas casinos. We even took inspiration from our online game's design to ensure an authentic experience.
Keep an eye out because very soon, you'll be able to purchase the complete Vegas Solitaire set, which includes the playing cards and the play mat, directly from our website. Don't miss this chance to bring the excitement of Vegas Solitaire into your own home! Stay updated by visiting our news page or following us on Facebook.
Prepare yourself for unforgettable moments as you enjoy the true essence of Vegas Solitaire. Get ready to elevate your game nights to new heights with friends and family. The magic of Vegas Solitaire is just a click away, waiting to be yours.