Name Book: Dick's Games of Patience
Author: William B. Dick
Year: 1907
Publisher: Dick and Fitzgerald
Location: New York, USA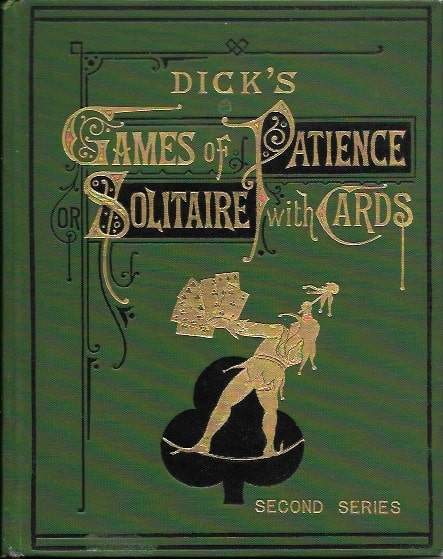 Dick's Games of Patience by William B. Dick. Published and copyright by Dick and Fitzgerald, New York, USA 1908
Conceivably, this book is the source of all confusion between Canfield and Klondike Solitaire. William B. Dick describes 72 different solitaires including:
Fascination – (the game we call Canfield today, without gambling scoring)
Storehouse – (similar layout with a four-card tableau and 13-card storehouse)
Oddly, on page 116, we discover the game we nowadays know as Klondike Solitaire. It is the same one mentioned in "Hoyle's Games – Autograph Edition" as Seven Card Klondike.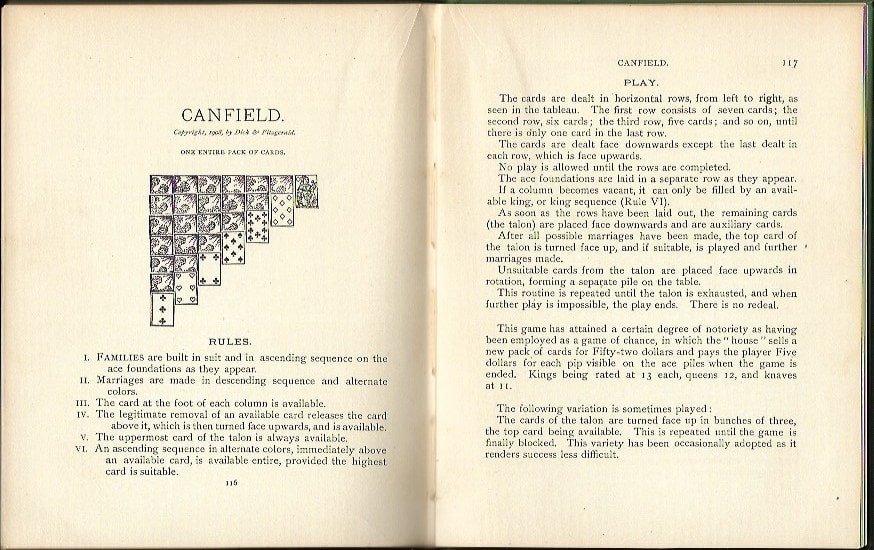 William Dick mentions the gambling origin of the game:
"This game has attained a certain degree of notoriety as having been employed as a game of chance, in which the "house" sells a new pack of cards for fifty-two dollars and pays the player five dollars for each pip visible on the ace piles when the game is ended"
However, the Solitaire is named Canfield with the addition "Copyrighted 1908 by Dick & Fitzgerald."
The game rules are exactly like how you play Vegas Solitaire, including the one-card draw rule. The only difference seems to be the fact that the tableau is dealt in the opposite direction, beginning the seven-card row, from right to left, not left to right.)
Why would Dick and Fitzgerald Suddenly Name the game Canfield?
Canfield was still alive at this time, and although retired from gambling, his name was still inextricably linked to his success as a gambler.
We might conclude at least that Canfield might have played a form of Solitaire (Canfield or Klondike), maybe once or twice as a novelty for the regular customers. As to which game he may have offered? It is unclear, and only made more confusing by the copyrighting of Seven Card Klondike as "Canfield."
It's also remarkable that Fascination, nowadays associated with Canfield, is not described with any comments of being played as a gambling game.
Did William Dick just use the name Canfield because it was a synonym for gambling? Or due to the fact that Canfield was so famous in New York that Dick and Fitzgerald just misused his name for commercial goals?
Based on the information available, one thing is for certain: the Seven Card Klondike game is associated with gambling AND with Canfield.
Other Editions of Dick's Games of Patience