Name Book: Dick's Games of Patience
Author: William B Dick
Year: 1883
Publisher: Dick and Fitzgerald
Location: New York, USA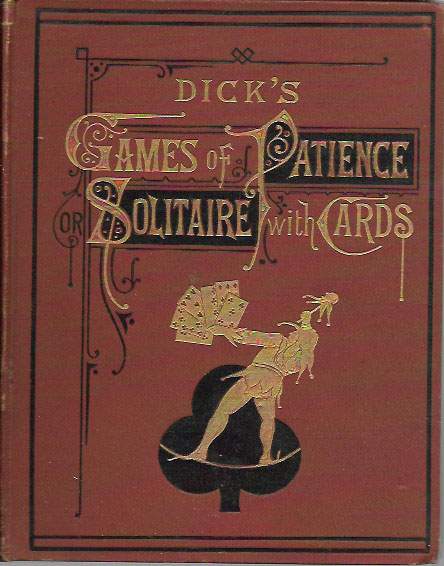 Dick's Games of Patience (first series) by William B Dick, Dick and Fitzgerald, New York, USA
A very well-known and famous book of Patience is written in 1883 by William B Dick. Even now there are still many copies of the original print available. The first series was published in 1883 and contained 64 games of Patience and Solitaire:
Auld lang Syne
Tam o Shanter
Napoleon's Favorite
The Four Seasons
Simplicity
The Gathering of the Clans
Napoleon at St. Helena
The Fifteen Puzzle
The Calculation
The Surprise Party
The Four Kings
The Clock
The Garden
The Contra Dance
The Queens Audience
The Betrothal
The Phalanx
The Idle Year
The Reinforcements
The Chameleon
The Reserve
La Belle Lucie
The Shamrocks
The House in the Wood
The House on the Hill
The Grand Duchess
The Frog
The Constitution
The Beleaguered Castle
The Citadel
The Exiled Kings
Penelope's Web
The Pyramid
Napoleon's Square
The Court-Yard
The Windmill
The Quadrille
Leoni's Own
The Chatelaine
La Nivernaise
The The Four Corners
The Baker's Dozen
The Order of Precedence
The Salic Law
The Congress
The Sultan of Turkey
Thirteen Down
The Fortress
The Hemispheres
The Elevens
The Chester Game
The Fourteens
The Shah of Persia
The Empress of India
The Zodiac
The Octagon
The Blockade
light and Shade
The Besieged City
St. Louis
Rouge et Noir
The Blondes and Brunettes
The Royal Cotillion
Nestor
27 games are played with one deck, 35 games are played with 2 decks, then there is one game played with 4-, and one with 9 decks of cards.
In the second series, published fifteen years later in 1898, 6 new variations of Patience and Solitaire games were added.
Other Editions of Dick's Games of Patience