Name Book: Games of Patience. Illustrated By Numerous Diagrams (second edition)
Author: Tarbart (Thomas de la Rue)
Year: 1905
Publisher: Thos de la Rue & Co LTD
Location: London, United Kingdom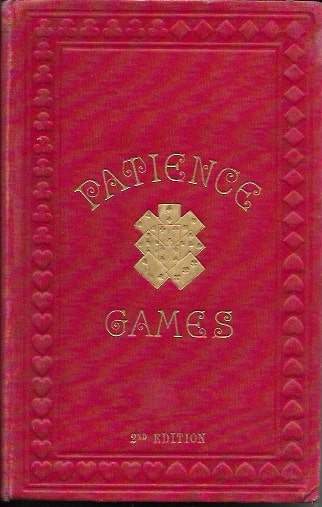 Games of Patience. Illustrated By Numerous Diagrams (second edition) by Tarbart (Thomas de la Rue) London 1905
An updated version from the first edition of "Games of Patience Illustrated By Numerous Diagrams" by Tarbart. As in the first part, the following games, which can be seen as the ancestors of Canfield and Klondike, are included, still under the same names:
Demon or "The Devil's Own" – (The game we today associate with Canfield, without gambling score)
Triangle – (The predecessor of Klondike Solitaire, played instead with two decks of cards and without a Gambling score)
Gradations – Possibly a predecessor to Klondike Solitaire, Gradations is played with a single deck of cards and similar rules. The main differences are that cards can only be moved one at a time and that the tableau is dealt in the opposite direction.
Gambler's Delight
New and Included in this edition is the game called Gambler's Delight.
The first time we hear of the game today is known as Klondike Solitaire. It is referred to by the term "Gambler's Delight." The rules, including the seven-card layout, are identical. Empty spots are filled with Kings and cards, beginning with Aces being built on the foundations.
Although the author calls this game Gambler's Delight, there is no mention of stakes or payout scoring. Also, Gambler's Delight is played with the 3 card draw rule, which was not used in case the later gambling version of this game would use it.
It is pretty remarkable that although this is one of the first times that "Klondike" is described in detail in a game rules book about Solitaire, it's also the only case where the game is named Gambler's Delight.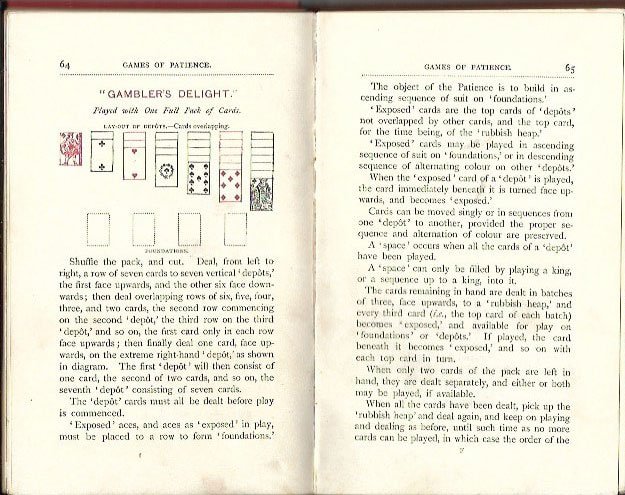 Conclusion
Can we assume that, based on the name-giving by Thomas de la Rue, "Gambler's Delight" referred to possible gambling activities related to this game?
W. Dalton made noteworthy comments about this issue in an article published in 1909 in an English Magazine. Writer W. Dalton claims that Gambler's Delight was not the correct name for this gambling solitaire. The valid name was "The Canfield" and the turn one rule would apply when played for money. Read more in "My Favourite Patiences by W Dalton."