Name Book: Games of Patience. Illustrated By Numerous Diagrams
Author: Tarbart (Thomas de la Rue)
Year: 1901
Publisher: Thos de la Rue & Co LTD
Location: London, United Kingdom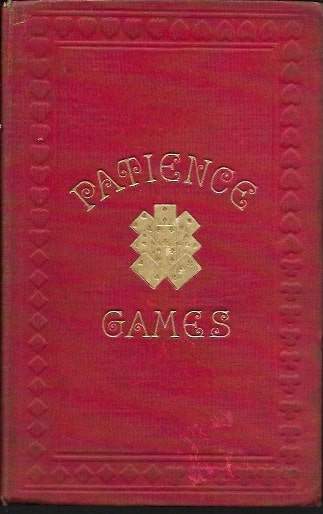 Games of Patience, Illustrated by numerous diagrams by "Tarbart," Published by Thos. de la Rue & Co LTD, London 1901
Thomas De La Rue's second book about Solitaire. This time the book is published under his pseudonym Tarbart. A significant improvement is that the second book of Patience games by Thomas de la Rue is written much simpler and easier to understand compared to his book of 1890. A total of 46 solitaire games are described, among which:
Demon or "The Devil's Own" – (Here not mentioned yet as a gambling game)
Triangle – (The predecessor of Klondike solitaire, played with two decks of cards with no gambling score)
Gradations – Also might be the predecessor of Klondike Solitaire. Gradations is played with a single deck of cards and similar rules. The main differences are that cards can only be moved one at a time and that the tableau is dealt in the opposite direction.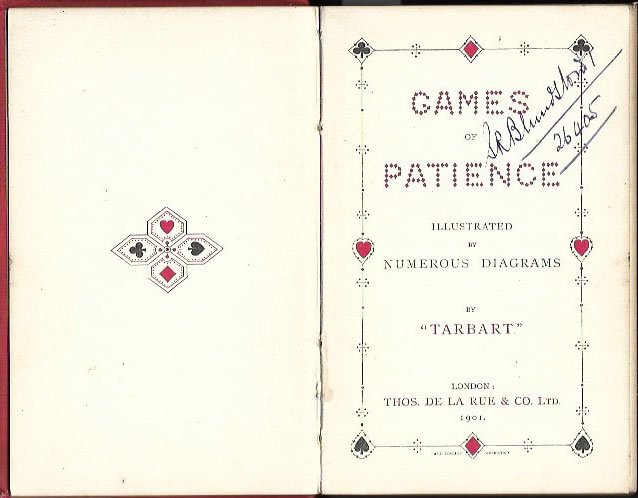 The book Games of Patience Illustrated By Numerous Diagrams is written by the same author as "Patience Games" by Cavendish – 1890
In 1905, Tarbart edited this version and published an updated version of Games of Patience. Illustrated By Numerous Diagrams. Here, he added some new extra games, among which Gambler's Delight, the game we today call Klondike Solitaire Draw 3.