Name Book: The Complete Book of Solitaire and Patience Games
Author: Albert H. Morehead and Geoffrey Mott-Smith
Year: 1949
Publisher: Grosset & Dunlap
Location: New York, USA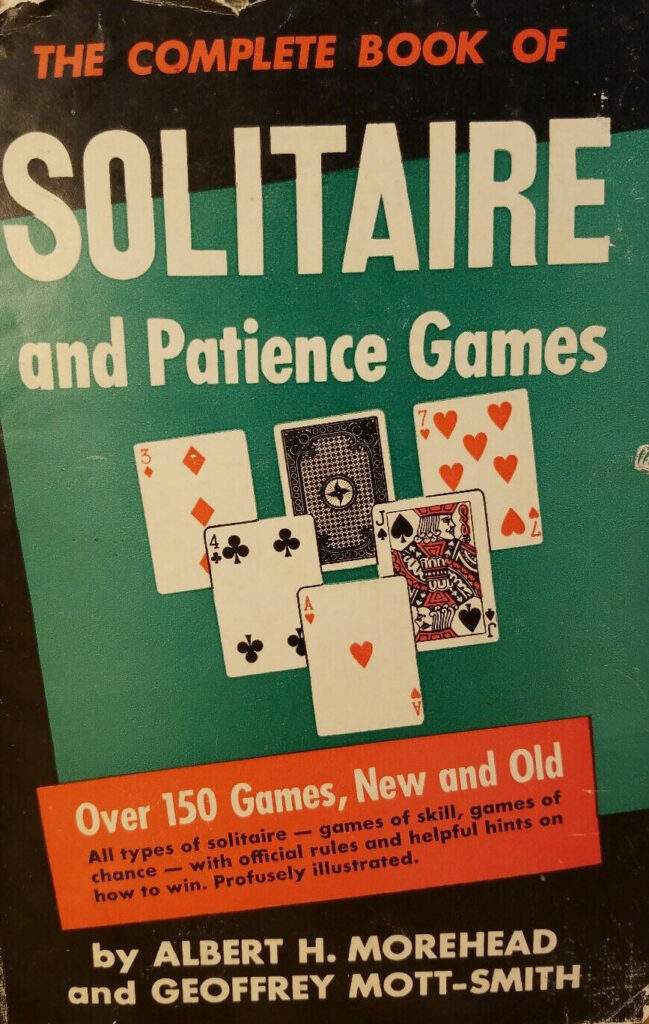 The Complete Book of Solitaire and Patience Games: The Most Comprehensive Book of Its Kind. Over 225 Games
Albert Morehead (1909 – 1966) was a journalist for The New York Times and writer of several books on card games. His passion was Bridge but he also wrote, together with Geoffrey Mott-Smith, a very important book on Solitaire.
The Complete Book of Solitaire and Patience Games is a masterwork on Solitaire, with over 225 different Solitaire games described including their variants and layouts.
Morehead about Canfield
Albert Morehead was very clear in his opinion about what game was played in Canfield's casino.
"Another game, which became almost a common noun at one time is Canfield. The game is named after Mr. Canfield who owned a fashionable gambling salon in Saratoga in the last decade of the 19th century. He proposed that players buy a deck of cards for $50,00 and play a game of the solitaire Canfield. He pledged to give a player 5$ for every card in their foundation's piles at the end of the play. Since the player could expect on average between 5 and six cards, this means Mr. Canfield stood to win about $25 per game. Despite this inordinate house percentage, thousands of players accepted Mr. Canfield's proposition, and the cult of Canfield spread all over the country."

"Mr. Canfield is believed to have accumulated a small fortune in this way, though he later said his solitaire room was less lucrative than the roulette wheel. While only 2 housemen were needed to operate roulette and therefore could handle a lot of customers at any time, a houseman had to be hired for every solitaire punter to watch the player for fraud."

"The game played at Canfield Casino is the game described in this book as Canfield (page 25 of the book) However Canfield has also been a name widely misapplied to another game, Klondike (solitaire) which eventually overtook Canfield in Popularity."
Morehead points out that Canfield offered the version we call Canfield now. As a result, we know it was played (named Gambling House Solitaire) in Gambling houses in New York.
Albert Morehead seems very sure about it and due to his credibility and success of his other books, there were many game rules books to follow, many of which adapted his statements about Canfield's Solitaire.
I'm very curious where his certainty comes from. Unfortunately, Morehead does not come up with plausible evidence.
Although Morehead was not the first one who stated that Canfield played a form of Gambling House Solitaire, through this book he definitely added to the worldwide acceptance that Canfield became the current name of which was first called "The Demon" or "Fascination."