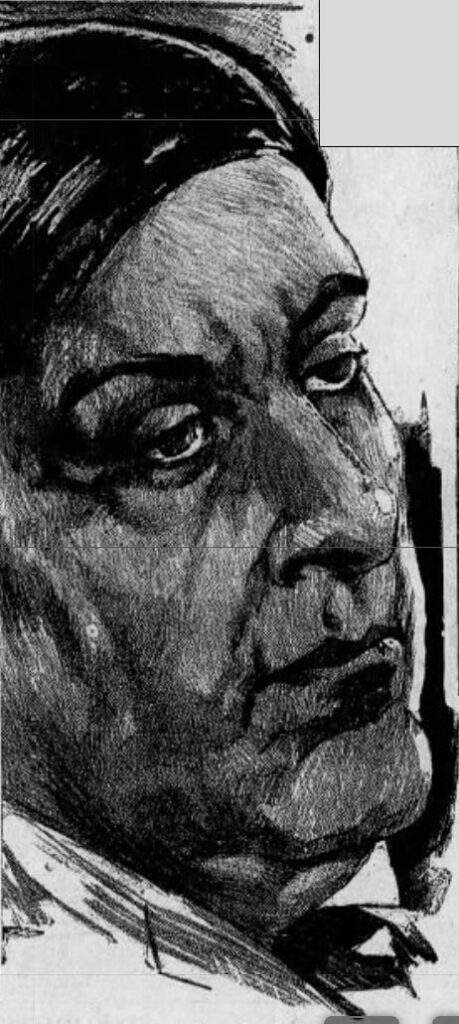 Richard Canfield, the "Prince of Gamblers," was a famous gambler (gambling house proprietor) who ran several successful casinos in New York City and Saratoga Springs. These days, most people have only heard the stories about Canfield as the inventor of Canfield Solitaire.
In my research of the history of Solitaire from a gambling perspective, I couldn't avoid the topic and the controversy surrounding Canfield. Despite being such a famous figure, and the multitude of facts about his life and activities as a gambler, there is little concrete evidence that Canfield had anything to do with Solitaire. It is mainly hearsay and then often without a reliable source.
Over 100 years had passed since Richard A. Canfield's illustrious career became history-making material and did so at a time when Solitaire's popularity was extraordinarily high. Oddly, to this day, it is nearly impossible to pinpoint precisely where the name Canfield Solitaire comes from or why Solitaire bears the name of the well-known casino boss.
So why is a Solitaire game named after him? Was he the creator of the game that now bears his name, or was the game named after him for other reasons? And which Solitaire did he offer in his casinos?
The Candidates: Either Canfield or Klondike
Despite my efforts, including contacting authors who have written about this topic, no hard evidence exists to prove that Canfield offered any form of Solitaire at one of his gambling houses.
Even Saratoga Springs historian Greg Veitch, an authority on the history of gambling in New York, was unable to comment on what Solitaire was played at Canfield's Casino in Saratoga Springs.
If there was a Solitaire played in Canfield's casinos, I say if because there is also a theory that he didn't have anything to do with it and never even offered it to his players. But if Canfield played a form of Solitaire, we can narrow down our research to the two following versions:
The game we today call Canfield Solitaire, you play with a layout consisting of a 13-card reserve and a 4-card tableau.
The game we know today as Klondike, or Vegas Solitaire, with the 7-card Tableau layout.
After comparing dozens of sources, placing them in a logical timeline, and evaluating the various claims, facts, and suppositions, these three theories emerged as the most likely truth about Canfield Solitaire.
Theory 1: Canfield offered "Canfield" Solitaire in his Casinos
The most plausible theory is that Richard Canfield offered a Solitaire in his gambling houses which resembles the game we know today as Canfield Solitaire, but also as Demon / Fascination. This is the one with the 4-card Tableau and 13-card reserve.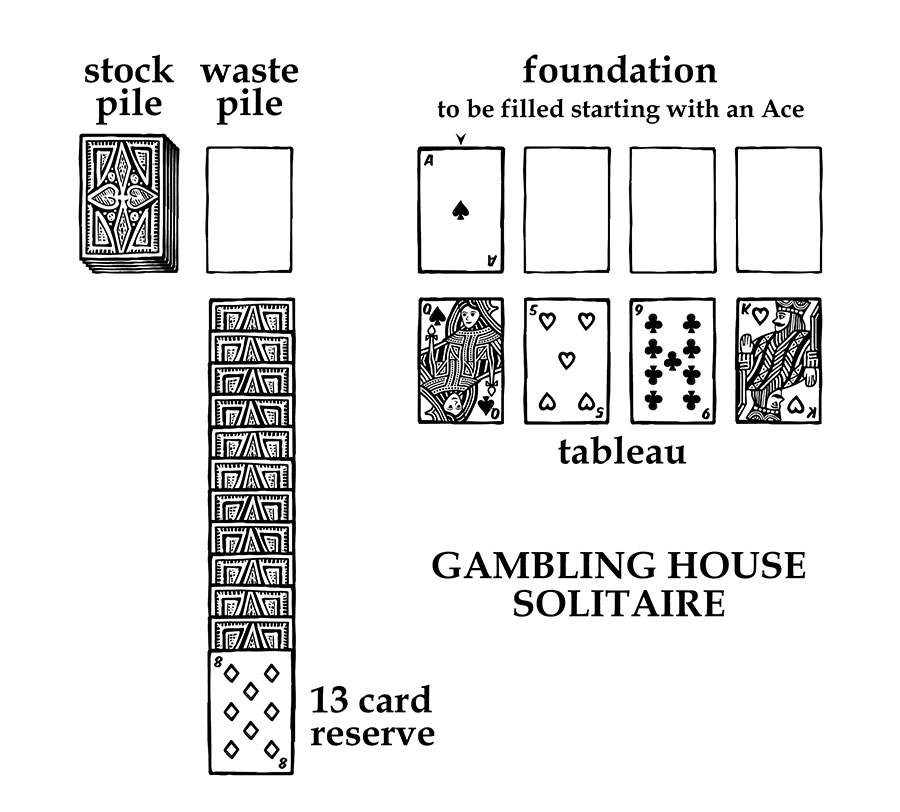 The writer, R.F. Foster, is the first to call this form of Solitaire "Canfield," claiming that Canfield offered it in his gambling houses.
Albert H. Morehead, considered one of the leading writers on Solitaire of the last 100 years, also claims that Canfield Solitaire is the correct name for the game with the 13-card Reserve and a 4-card Tableau. But his described buy-in and payout structure differ from Foster's version.
In my opinion, my research has shown that Canfield Solitaire is the incorrect name for the wrong game anyway. The Solitaire where you start with a random card on the Foundation should be named either Demon (Solitaire) or Fascination.
The game that Canfield most likely offered was Gambling House Solitaire. It was popular in 1902 in New York, where people played it in all the major gambling houses. And it was at exactly that time that Canfield ran his gambling houses in New York and Saratoga Springs.
Gambling House Solitaire does have a gambling score (like Vegas Solitaire) and it has different rules regarding the foundation. With Gambling House Solitaire you have to find an Ace to start the Foundations.
There are very few arguments against this theory that it was the "4-card Tableau" version played at Canfield's. Except perhaps that I have not been able to find any concrete evidence anywhere. It is mainly hearsay, especially from R.F Foster and Albert Morehead, who are firmly convinced of this theory.
Was Canfield also the Inventor of this Form of Solitaire?
It is possible, but it seems unlikely. Almost everywhere, it is written that Canfield would only have offered the game for a short time and that he was not enthusiastic about it. It was for a very short period of time and it never really took off.
It's more likely that he may have tried it briefly and that his fame eventually led to Gambling House Solitaire slowly but surely being renamed, Canfield.
Game rule authors like R.F. Foster and A. Morehead either confused it with Demon/Fascination or were unaware of the actual game rules of Gambling House Solitaire.
Theory 2: Canfield offered "Seven Card Klondike" in his Casinos
Another theory is that Canfield would have introduced another solitaire variant into his gambling houses. So this is (Seven Card) Klondike, still known today as Klondike, and if you play it for money, Vegas Solitaire.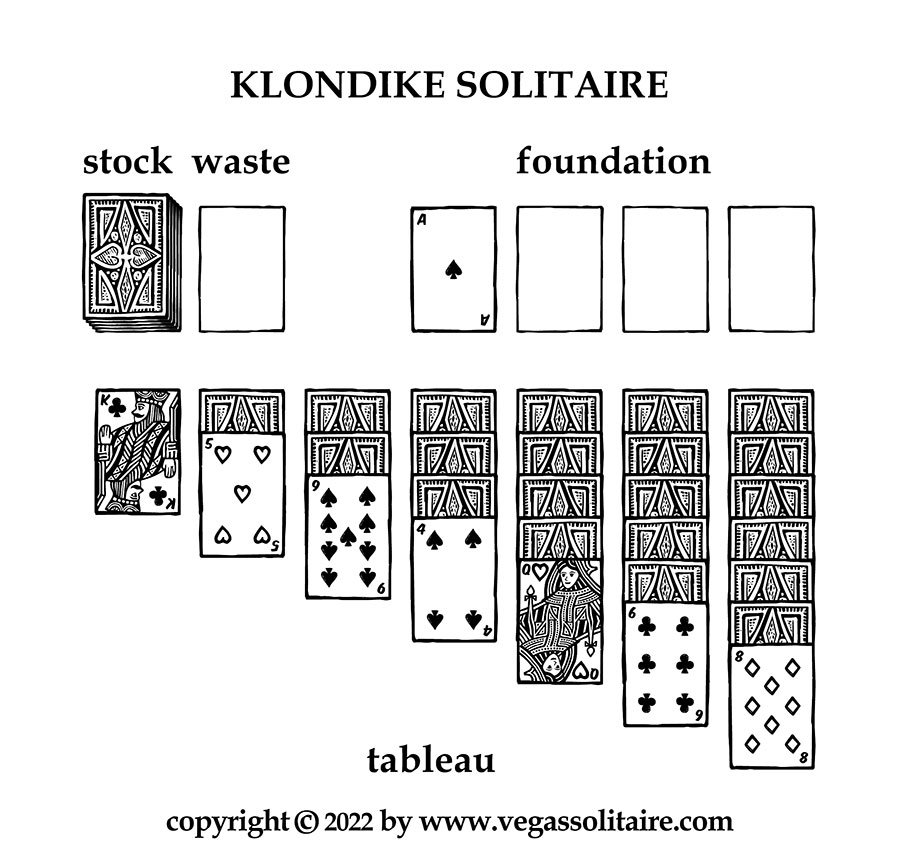 According to legend, Klondike was devised as a gambling solitaire in the bars of Dawson City. In this settlement, the gold rush took place in 1896. The fact that Klondike is linked with gambling in the old rulebooks lends credence to this theory.
At the beginning of 1900, the game was not referred to as "Seven Card Klondike." This didn't happen until 1907. Although between 1905 and 1910 practically all writers call the game Canfield or "The Canfield" when played for real money, and with the one draw rule in effect.
In 1908, a well-known Solitaire book was published by Dick and Fitzgerald appeared: "Dick's Games of Patience by William B. Dick." Dick also names the Klondike game "Canfield" and even adds copyright behind the name. "Copyrighted 1908 by Dick & Fitzgerald."
This copyright appears to be a commercial gimmick that plays on the game's popularity at the time, so popularly called Canfield.
In 1911, for the first time in "The Official Rules of Card Games," published by the United States Playing Card Company, the names of Canfield and Klondike are described in the way we still use them today. This book's main editor was R.F. Foster, who plays a crucial role in the following "evidence."
The Letter from Richard Canfield to R.F. Foster
In 1934, a five-part series of articles on gambling appeared in The Brooklyn Daily Eagle. The article You Can't Win (Series of articles on Gambling from Faro to Bridge) written by Frank Emery" contains a paragraph that may provide conclusive evidence that it was Seven Card Klondike played at Canfield's Casino.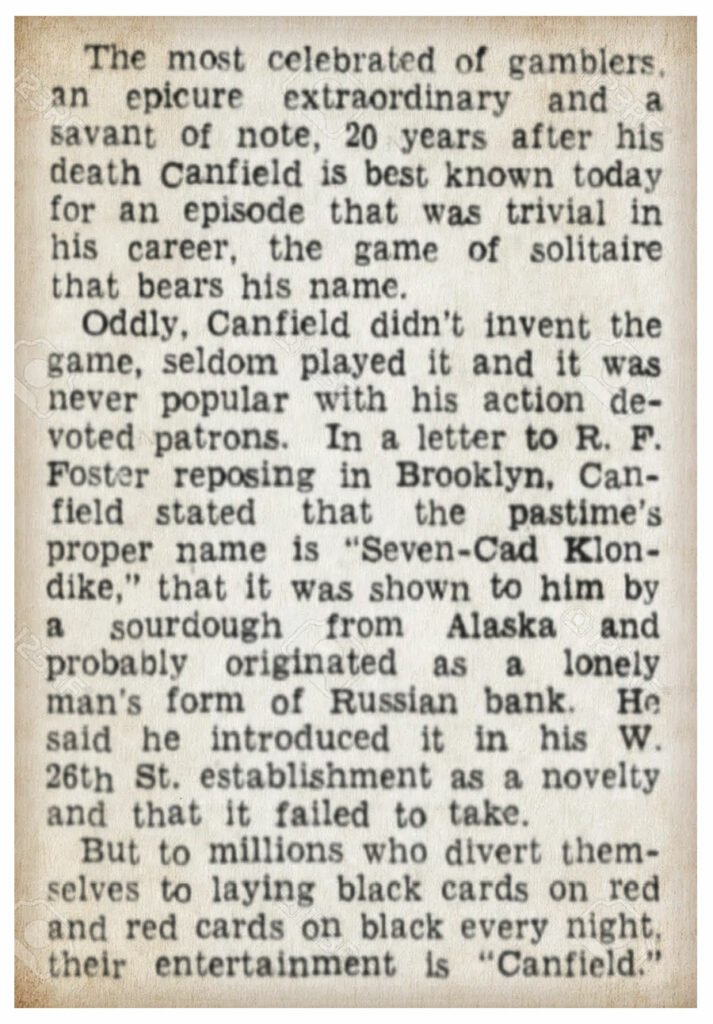 "The most celebrated of gamblers, an epicure extraordinary and a savant of note, 20 years after his death, Canfield is best known today for an episode that was trivial in his career, the game of Solitaire that bears his name. Oddly, Canfield didn't invent the game, seldom played it, and it was never popular with his action devoted patrons. In a letter to R.F. Foster reposing in Brooklyn, Canfield stated that the past time's proper name is "Seven-Card Klondike" and that it was shown to him by a sourdough from Alaska and probably originated as a lonely man's form of Russian bank.

"He said he introduced it in his W 26th Street establishment as a novelty and that it failed to take."

When reading the paragraph, most of the following statements, at first sight, seem to be very plausible and backed by other reliable sources.
Solitaire was never a successful casino game.
Canfield didn't invent it and seldom played it.
The fact that it was "Klondike" after all explains why in all early books, Klondike is often mentioned as being "The Canfield" when you play it for real money. It might also explain why Dick and Fitzgerald copyrighted the game in 1908 as "Canfield."
It is said to have been taught to him by a sourdough from Alaska, where the Klondike Gold Rush took place between 1896 and 1899. Canfield was alive and running his gambling houses in New York during the gold rush.
The gambling house referred to in the article is the Madison Square Club, which Canfield operated between 1888 and 1899 and was located at 23 West 26th Street in New York.
R.F. Foster was a famous writer about card games and Solitaire, an authority at that time. He lived when Canfield was alive, so there definitely could have been correspondence between the two.
According to Frank Emery, the letter from Richard Canfield was addressed to R.F. Foster. So R.F Foster could have written Canfield's answer in one of his books. And there is where it goes wrong with this theory if you ask me:
In his book of 1909, R.F Foster states that:
Klondike is sometimes called "The Canfield" when 52 chips are paid for the pack.
In 1911, in the 15th edition of "Hoyle up to date, The Official Rules of Card Games", published by The US Playing Card Company and edited by R.F. Foster, both Klondike and Canfield are added with the following written:
About Klondike (describes the 7-card Tableau layout)
"..The player pays 52 counters for the deck, and he is paid five counters for every card he gets down in the top Foundations. The cards being shuffled and cut, the first is turned face up and laid on the table…"
About Canfield
"This differs from Klondike in the layout and in the play. Although the two games are often thought to be the same under different names. In Canfield, after shuffling and cutting, thirteen cards are counted off, face down, and laid to the left, face up."
Here suddenly, R.F. Foster changed his earlier statement from 1909. As a matter of fact, he changes it completely the other way around. Instead of confirming the 1934 article, he now states that Canfield was NOT playing the Seven Card Klondike version as alleged in the letter.
In 1914, when Canfield died, R.F. Foster published his next book, (revised and expanded) edition of Foster's Complete Hoyle, an encyclopedia of games, including all indoor games played today.
Here, Foster again describes Klondike as the Seven Card Solitaire and Canfield as the game we still know today as Canfield Solitaire. That the author has changed his mind for sure is made clear by the first line of Klondike's explanation:
"This game is sometimes mistakenly called "Canfield," but that is a distinct game, described elsewhere, in which there are separate piles for Stock and Foundations."
So was Frank Emery wrong? Because R.F Foster is not only debunking this theory; he is contradicting it instead. But still, there are still a lot of arguments to make it was actually Klondike that was played in Canfield's Casino.
Theory 3: Canfield has never had Anything to do with Solitaire
Although you can read everywhere that Canfield would have invented a Gambling Solitaire, some critical sources claim the opposite. Not only would Canfield not have invented Solitaire, but he also wouldn't have anything to do with it.
At least, this is what Alexander Gardiner claims in the book "Canfield: the True Story of the Greatest Gambler" published in 1930. Alexander Gardiner describes all the important events in Canfield's life in great detail. The casinos are also extensively characterized, including which games you could play in each Casino, including the layout of the particular casino floor. In the whole book, there is only one line about Solitaire where he has the following to say:
"But possibly 500 years from now, his name will live in a card game he never played and which is only theoretically a gambling game."
In 1940, the same claim was made by Hugh Bradley in the book "Such was Saratoga." Also, in this book, are many details about Canfield's casinos, especially his Casino in Saratoga Springs. Hugh Bradley states:
"About Canfield, who used to list himself merely as gentlemen when answering the passport question as to 'occupation' and who never played the game of solitaire which perpetuates his name."
It is striking that two books written in such detail about Canfield's life conclude that Canfield had nothing to do with it. Add to that the fact that after a long search, I, too, have not been able to find any objective evidence about whether or not Canfield offered Solitaire in his casinos.
The fact is that during the period that Canfield was active as a casino boss, two types of gambling Solitaire enjoyed great popularity.
We also know that Gambling House Solitaire was offered in all major gambling houses in New York. But also at Canfield's? I haven't found any hard evidence of this either so far, but that does not mean I support this theory.
Conclusion
Almost 100 years ago Herbert Asbury also wrote a chapter on this topic in his 1938 book "Sucker's Progress: An Informal History of gambling in America from the Colonies to Canfield." He concluded his investigation with the following conclusion:
"One conclusion which may be drawn from the Canfield Klondike situation is that there were two versions of Klondike and that Harris B. Dick took advantage of Richard's Canfield's notoriety, chose the version which was being played in the gambling houses, called it Canfield. Another conclusion, possibly more logical, is that the whole thing is a mess."
After my research, it seems his conclusion is still relevant. We simply don't know. The only conclusion I dare to draw from my research is that Demon or Fascination are incorrectly named Canfield Solitaire. If Canfield had played the 4-card Tableau variant, it would undoubtedly have been Gambling House Solitaire.
What Solitaire do you think that Canfield played in his Gambling Houses?
Check here for my resources: Solitaire Bibliography