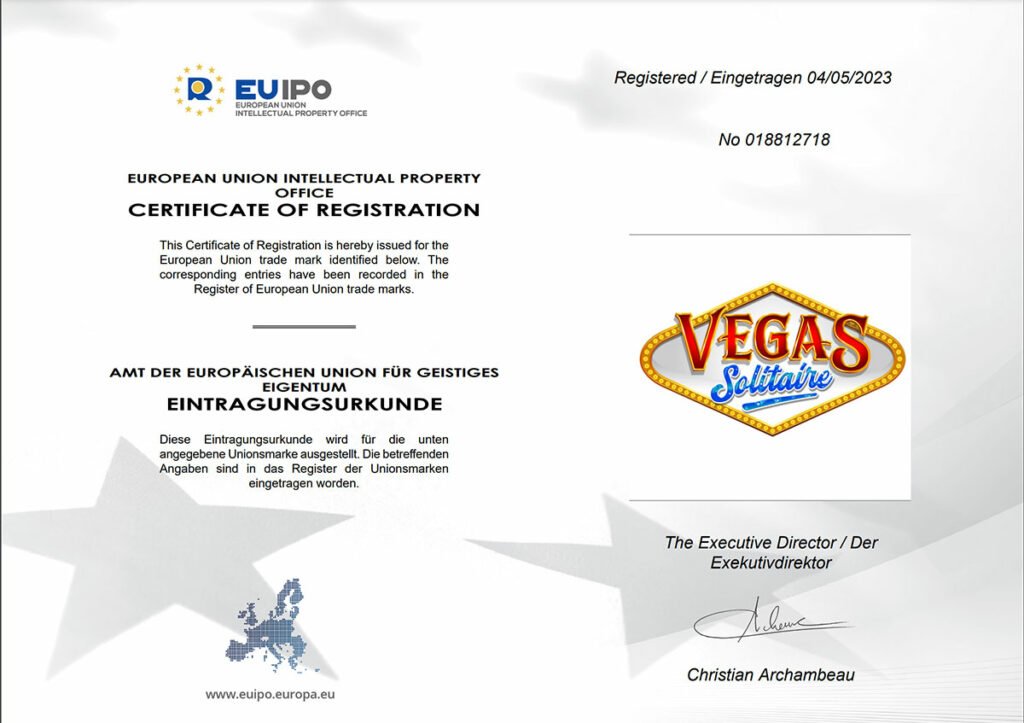 In a significant development for online gaming enthusiasts, Vegas Solitaire has been awarded an official trademark by the European Union Intellectual Property Office (EUIPO). This milestone achievement aims to protect the game's unique identity, including its name and logo, from any potential infringement by unauthorised game developers. Vegas Solitaire has positioned itself as a reputable brand committed to maintaining the integrity of its distinctive features, ensuring players enjoy an authentic and exclusive experience on their website, www.vegassolitaire.com.
The game known as Vegas Solitaire represents the official and historical variant of the renowned card game, Solitaire, when played as a gambling activity with real money at stake. Drawing upon the rules of Solitaire Klondike, this version introduces an intriguing twist: players are required to place a wager to participate, and they earn rewards for each successfully played card that contributes to building the foundation. Originating during the Klondike Gold Rush, Vegas Solitaire gained immense popularity in the early years of Las Vegas' establishment as a gambling mecca.
Now, with the official trademark secured, Vegas Solitaire has made a triumphant return to the online casino scene, boasting an immersive Vegas-style experience. The trademark serves as a testament to the game's status as the sole and legitimate Casino Solitaire offering, underscoring its exclusivity and distinguishing it from potential imitations. The game's creators aim to establish a strong brand presence and foster confidence among players who seek an authentic Vegas-style Solitaire experience.
This trademark achievement marks the first step in the protection of Vegas Solitaire's intellectual property, with further trademark applications currently underway. By taking proactive measures to defend their brand and intellectual assets, the team behind Vegas Solitaire exhibits its commitment to upholding the game's unique qualities and safeguarding the interests of its loyal player base.
About our Trademark
For additional information regarding the trademark and its significance, interested parties are encouraged to visit the dedicated trademark page on the Vegas Solitaire website. Here, visitors can access comprehensive details on the registration process, the game's distinctive elements, and the team's ongoing efforts to maintain the authenticity and exclusivity of the Vegas Solitaire experience.
As Vegas Solitaire continues to solidify its position as the premier online Casino Solitaire game, players can rest assured that they are engaging in a trusted and protected gaming environment. The trademark serves as a mark of distinction, assuring players that they are partaking in the only authorised and genuine Vegas-style Solitaire game available in the online casino sphere.
About Vegas Solitaire
Vegas Solitaire is an online Casino Solitaire game that embraces the historical roots of the popular card game. By infusing the traditional Solitaire Klondike rules with a gambling element, Vegas Solitaire offers an exhilarating and rewarding experience for players seeking a true taste of Vegas-style gaming. With the recent acquisition of an official trademark, Vegas Solitaire stands as the definitive Casino Solitaire game, delivering an authentic, immersive, and protected gaming experience.
Contact
For media inquiries or more information about Vegas Solitaire, please visit our contact page for more information.