Vegas Solitaire Online
Are you a fan of the Classic Solitaire Card game, but looking for a new and exciting variation to try? Look no further than Vegas Solitaire Online, a unique and thrilling game that allows you to test your skills and potentially win big. In this article, we'll explain where you can play Vegas Solitaire Online, the advantages of playing online, and how to play for free or for real money.
Do you want to play Vegas Solitaire free online?

If you're looking for a way to play Vegas Solitaire for free, then look no further than vegassolitaire.com. Here, you can play with imaginary money and the scoring will be calculated cumulatively, allowing you to test your skills against the house (casino). It's important to note that there is no difference in playing Solitaire online for real money or for free – the random generator works according to the same payout percentage. So, playing for free is an ideal way to practice.
Online Vegas Solitaire for real money
If you want to test your skill against a real casino for real money, then you can try Vegas Solitaire for real money. For the true gamblers, we have made a listing of all the online casinos where you can play Vegas Solitaire for real money. We've selected the best, top-rated casinos where Vegas Solitaire is available for real money play.
How to play Vegas Solitaire online?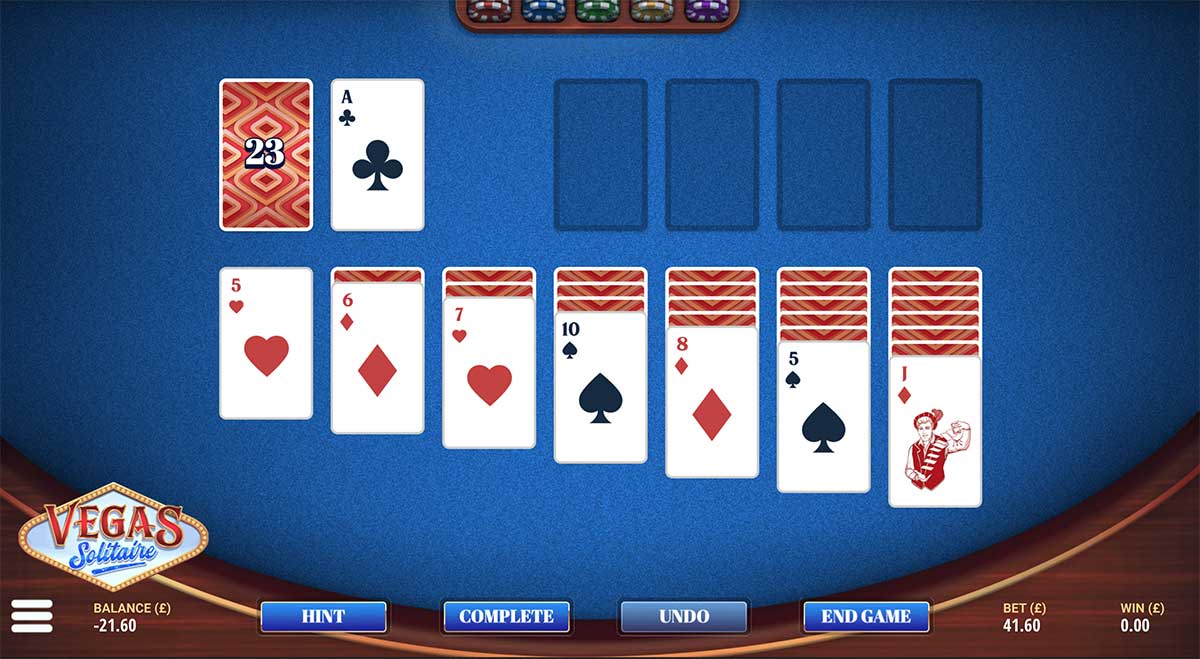 To start playing Vegas Solitaire online, it's a good idea to first take a look at the game rules. For online play, there are some additional functions and options that can be applied, which we've explained below:
Undo/Restore button
If you make a wrong move, you can use the Undo button. You may only use the Undo/Restore button once per turn to undo your last action. It is impossible to use the Undo/Restore button if your last action has cleared a card at the bottom of a row of the Tableau, and as a result, a new card was exposed.
AutoPlay Function
When you press the AutoPlay button, the game will be played automatically according to the best strategy for Vegas Solitaire. The AutoPlay feature will always try to complete the game as far as possible and generate the highest potential profit. However, as with manual play, the AutoPlay function is not guaranteed to finish the game.
End Game
With this button, you can end the game immediately. Cards placed on the Foundation will be paid out with either money or points, depending on which game you play.
Hint Button
When you can't go any further, you can use the Hint button to see if there are still possible moves according to the Optimal Strategy.
Advantages of playing Solitaire online vs Solitaire with real cards
There are several advantages to playing Solitaire online instead of playing solitaire with real cards. First, you can play anytime, anywhere, without the need for a deck of cards. Second, you can play for free or for real money, with the option to switch between the two. Finally, online Solitaire games often include unique features, such as Vegas scoring, which adds an extra layer of excitement to the game.
In conclusion, Vegas Solitaire Online is a great way to experience the Classic game of Klondike Solitaire with a unique twist. Whether you're playing for free or for real money, you're sure to enjoy the thrill of the game.