Name Article: You Can't Win (Series of articles on Gambling from Faro to Bridge)
Author: Frank Emery
Year: 1934
Published in: The Brooklyn Daily Eagle, 20 august
Location: Brooklyn New York, USA
YOU CAN'T WIN, by Frank Emery – ARTICLE I
In 1934, Frank Emery released a six-part series on gambling titled You Can't Win, a Series of articles on Gambling from Faro to Bridge. The articles were published weekly in The Brooklyn Daily, each week containing a different topic in which Canfield was the main subject. This is a beautiful series of articles that give a good picture of what gambling was like in the early 20th century.
In the first series, Frank Emery opens the article explaining a deal of the solitaire game bearing Canfield's name. The deal is spread out over seven piles..which clearly point out to Klondike:
"The other data prober of the laws of chance, Robert S. Sutliffe, shuffled a deck of cards for the 63000th time over a table in Manhattan and spread them out in seven piles for a joust at the Solitaire that bears the name of the American Prince of Gamblers. Playing red cards on black, and black on red and fishing for an Ace sequences, he was stumped again."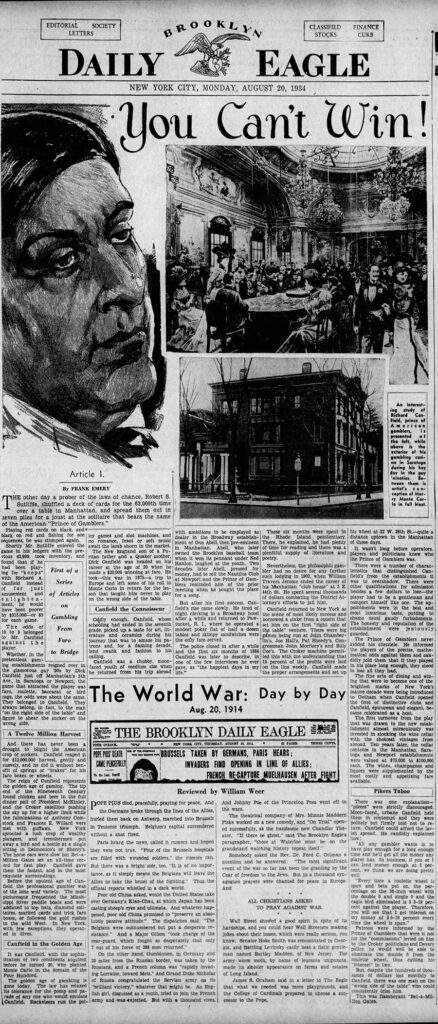 YOU CAN'T WIN, by Frank Emery – ARTICLE VI
In the latest publication of the You Can't Win series, Frank Emery comes up with a passage about which Solitaire is said to have been played at Canfield's. I was so super excited when I found this article since it could be the key to finally answering the question, What solitaire was played in Canfield's Casino? Read here the what Frank Emery had to say:
"The most celebrated of gamblers, an epicure extraordinary and a savant of note, 20 years after his death Canfield is best known today for an episode that was trivial in his career, the game of solitaire that bears his name. Oddly, Canfield didn't invent the game, seldom played it and it was never popular with his action devoted patrons. In a letter to R.F. Foster reposing in Brooklyn, Canfield stated that the past time's proper name is "Seven-Card Klondike" that it was shown to him by a sourdough from Alaska and probably originated as a lonely man's form of Russian bank.
He said he introduced it in his W 26th Street establishment as a novelty and that it failed to take."

I was so excited when I stumbled upon this amazing series of articles. Could it be the truth: that it was "Seven Card Klondike" played all along at Canfield's place?