Name Book: Foster's complete Hoyle; an encyclopedia of games, including all the indoor games played at the present day.
Author: Robert Frederick Foster
Year: 1909
Publisher: F.A. Stokes company
Location: New York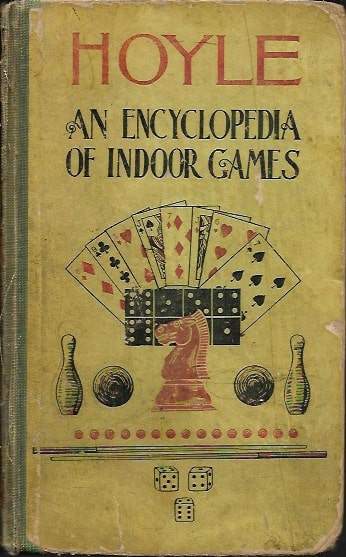 Foster's complete Hoyle; an encyclopedia of games, including all the indoor games played at the present day by R. F. Foster – 1909
R. F. Foster lived in the same time era as Richard Albert Canfield in New York City. He is one of the most authoritative writers on the rules of card games and in the second edition of "Foster's Complete Hoyle: An Encyclopedia of All the Indoor Games Played at the Present Day," the 1909 edition, R. F. Foster also pays attention to Solitaire. Klondike is mentioned on page 512. There is no mention of the "4 card tableau with 13 card reserve" version (the one we today call Canfield.)
About Klondike (page 512)
"This game is sometimes called Canfield when the player pays fifty-two chips for the pack and gets five for every card he gets out"

"Shuffle the full pack of fifty two cards, cut and turn up the top card. Lay six more cards in a row to the right of the first card but all face down.."

"The stock runs off three cards at a time, and any card showing can be used. The pack can be run through in this manner until no cards showing can be used, but there must be no shuffling or re-arrangement of the cards. Sometimes it is the rule to run through the pack once only, turning up one card at a time."
Here R.F. Foster very clearly states that when you play "Klondike" as a gambling game, it is called Canfield. This statement is repeatedly written in most of the card game rulebooks of his era.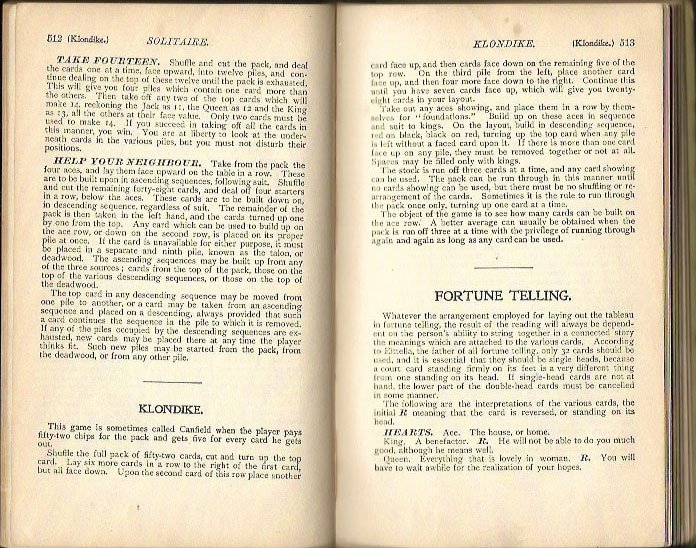 This is an important factor when looking for exactly which Solitaire game Canfield was playing at his casino. The reason for this interest is because an article in The Brooklyn Daily Eagle, 20 august 1934 (You Can't Win, by Frank Emery) mentions that Dick Canfield himself confirmed in a letter to RF Foster that the game he played at his casino was Seven Card Klondike.
However.. in the next edition of "Foster's complete Hoyle; an encyclopedia of games, including all the indoor games played at the present day" published in 1914, R.F. Foster suddenly shares a completely different vision about Klondike and Canfield.
Other Books by Robert Frederick Foster