Name Book: Solitaire and Patience: Seventy Games to test the Card Player's Skill and make a lonely hour pass quickly
Author: George Hapgood
Year: 1910
Publisher: The Penn Publishing Company
Location: Philadelphia, USA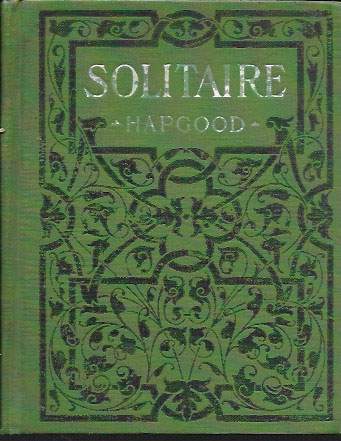 Solitaire and Patience: Seventy Games to test the Card Player's Skill and make a lonely hour pass quickly by George Hapgood
The first edition of Solitaire and Patience by George Hapgood in 1908 doesn't mention any of the gambling Solitaires. Neither Klondike (Vegas) nor Canfield is in the book, also not under another name. However, both games were added in the second print in 1910, the same as the 1920 version.
Demon Patience is mentioned on page 37 with the familiar game rules (13 card reserve, 4 card tableau)
About Klondike, here called Canfield
Seven Card Klondike is also added but named Canfield (according to Dick and Fitzgerald's copyright) and includes the mention of the gambling (Vegas) Score. Instead of dollars, the author uses points explaining the stakes and payout.
"If you wish, you may keep a score as follows: Count the pips of the cards piled on your aces. If they count ten, you have neither lost nor gained; each point over ten counts five to the good. Each point below makes a loss of five. Winning the game counts one thousand."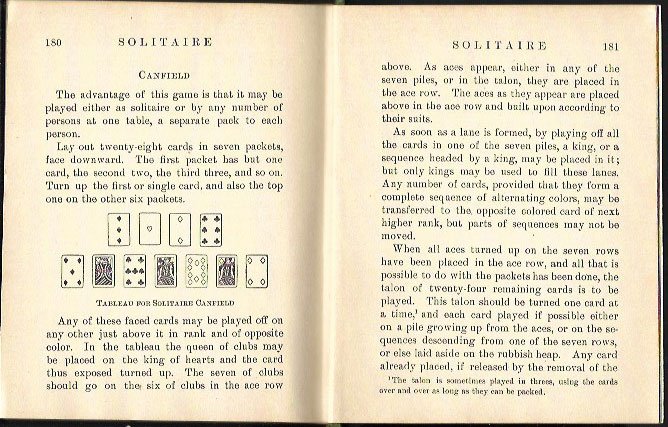 Also, the rules align with the other rules usually associated with the gambling version, where you can go through the deck only once by turning one card over at a time.
Double Canfield
Also included is a description of Double Canfield, a multiplayer game for two players or teams consisting of couples. That gambling was part of the game appears from the following line:
"This may easily be turned into a gambling game, each card counted by a player over his opponent to be worth a penny or any sum previously agreed upon."